CPD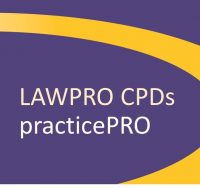 View our on demand CPD recordings here. Each presentation offers qualifying LSO professionalism hours and is approved for the LAWPRO Risk Management Credit program (which must be declared separately here).
---
As the COVID-19 pandemic continues to take its toll, we are all feeling the stress of "work/life blur" and pandemic fatigue. In this program, hear from leaders in the legal profession on how to move through the second wave.
---
LAWPRO and the Hamilton Lawyers Association present a webinar about the risks when acting on the purchase or sale of a business
---
Understand the leading common claims and when they occur, with examples of specific different risks by areas of practice.
---
Learn about the importance of diversity, inclusion and cultural competence for the legal profession, and how issues related to a lack of cultural competency can contribute to a claim
---
Understand the fraud problem, why lawyers are targeted for fraud and learn to recognize the common types of frauds faced by lawyers
---
Présentateur: Raymond Leclair, Vice-président, Affaires publiques
---
LAWPRO, NCA Network, and Toronto Lawyer's Association bring you a timely and informative webinar that looks at the the particular claims risks during COVID and how to avoid them, technology and working from home, and more.
---
LAWPRO brings you this webinar, initially presented for Pro Bono Students Canada volunteers, to help lawyers successfully deliver pro bono services.
---
Join Nadia Dalimonte, Manager, TitlePLUS Claims and Counsel, as she reviews various types of fraud, and provides tips and resources to help you avoid them.
---
Brought to you in partnership with the Toronto Lawyers' Association, this program looks at the trends of hot and cool markets, provides tips on providing guidance to clients looking for help with home renovations, opportunities for lawyers to provide enhanced legal services at the start of a purchase transaction, and more
---
---